Race Day 2 – Iditarod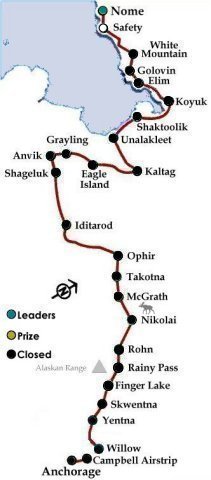 Update: Lance Mackey decided to it was time and was the first into Rainy Pass. There is snow falling, so you want to get through the Pass ASAP.
Update 2: Arrivals at Rainy Pass
1 Lance Mackey (47)
2 Bjornar Andersen (18)
3 Ramey Smyth (16)
4 Aliy Zirkle (24)
5 Hans Gatt (25)
6 Jeff King (41)
Quest winner in Finger Lake.
1 Sebastian Schnuelle (34)
2 Cim Smyth (37)
3 Robert Bundtzen (51)
4 Linwood Fiedler (28)
5 Sonny Lindner (42)
6 Wade Marrs (48)R
7 Harry Alexie (67)R
8 Nancy Yoshida (3)R
9 Lou Packer (43)R
10 Laura Daugereau (45)
Sebastian Schnuelle has obviously decided he wants to get through Rainy Pass as soon as possible, and his dogs want to run. The trail on packed snow will get worse as the teams use it.
Harry Alexie is showing his sprint skills, moving from the second to last start up to number 7.
Rachael Scdoris (58), the visually impaired musher from Bend, Oregon, has moved up to 15.