The leaders arrived at the Yentna checkpoint:
Rick Swenson (8)
Paul Gebhardt (15)
Ryan Redington (13)
Nancy Yoshida (3)R
Ray Redington Jr (10)
Michael Suprenant (11)R
Jake Berkowitz (12)
Ed Iten (4)
Aaron Peck (2)
Warren Palfrey (7)
Allen Moore (6)
Rick Larson (5)
March 8, 2009 Comments Off on Yentna
The Destin Log ran an article about personnel changes at the Sheriff's Department:
The fallout that began with Sheriff Charlie Morris' arrest Friday continued Wednesday as interim Sheriff Ed Spooner eliminated two employee positions and reorganized several administrative offices.

Maj. Sabra Thornton, Morris' chief of staff, was informed her position had been "discontinued due to the lack of current needs of the agency," a news release said.

Randall Holcombe, the assistant director of administrative services, was told "his services are no longer needed for that position as it has been eliminated in order to streamline operations and reduce costs," according to a second release.
…
March 8, 2009 4 Comments
While alpha releases usually are somewhat functional, beta releases are recognized as buggy. IT people have a tendency to refer to really bad software as gamma releases. Well, this weekend I dealt with an aptly named delta release of a transportation provider.
There was a time when, if the initial flight was running late, the airline would hold the connecting flight. Now the connecting flight leaves early to ensure that passengers don't make it. When fog delays a series of flights into a small airport with limited gates, why would anyone reschedule to ensure that twice as many planes are going to arrive as there are gates to handle them?
We had a very nice visit and the local weather cooperated, but every time I have to deal with airlines I become more convinced that I don't ever want to board another plane. If you think TSA is a PITA for you individually, stand back and watch what they make people with babies go through: it is theater… of the absurd.
Oh, the FAA suggests that parents traveling with children caution the children not to make jokes about bombs. I would assume that whoever wrote that advice has never actually dealt with children, or they would know that even bringing it up will almost guarantee a problem.
March 8, 2009 6 Comments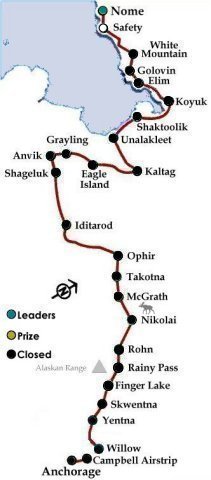 The Starting Grid:
Aaron Peck (2)
Nancy Yoshida (3)R
Ed Iten (4)
Rick Larson (5)
Allen Moore (6)
Warren Palfrey (7)
Rick Swenson (8)
Blake Matray (9)R
Ray Redington Jr (10)
Michael Suprenant (11)R
Jake Berkowitz (12)
Ryan Redington (13)
Gerry Willomitzer (14)
Paul Gebhardt (15)
Ramey Smyth (16)
Jessie Royer (17)
Bjornar Andersen (18)
Matt Hayashida (19)
Trent Herbst (20)
Mitch Seavey (21)
Judy Currier (22)
Robert Nelson (23)
Aliy Zirkle (24)
[Read more →]
March 8, 2009 Comments Off on Race Start