According to Atrios, Larry Summers will star as Blackadder, while Tim Geithner will play Baldrick, the man with "the cunning plan", in the US version. Atrios notes that John Cole has a review, as does Paul Krugman.
Susie Madrak found one by Yves Smith, while the News Writer looks at the pan by James Kenneth Galbraith.
Atrios provides some background on this really bad idea.
Problems cannot be solved by the same level of thinking that created them. – Albert Einstein
This is my response to Obama's production and his casting decisions. The real problem is the basic belief within the administration that it is important that the financial sector be comfortable with the economic policies. There is apparently no one advising the President who understands that WalMart shoppers are more important to the GDP than Wall Street. It is vital that consumer confidence be restored. "Confidence" has an entirely different meaning on Wall Street than Main Street. On Wall Street "confidence" is a game.
March 21, 2009 6 Comments
As I expected, Aaron Peck (2), who has been moving with the minimum of 6 dogs, has had to scratch in Elim. He waited to see if an extended rest would help, but I would guess that one or more dogs was no longer willing to pull. The real problem was probably that one of the dogs that had to be left at a checkpoint was probably his real lead dog, and without a strong leader the team won't hold together.
The current "red lantern", Alan Peck (32)R, still hasn't shown up in Unalakleet. He left Kaltag with Timothy Hunt (64)R at 7:45PM AKDT on 3/19. Hunt is already in Shaktoolik. It is 90 miles. He may be hunkered down somewhere because the wind has come up again producing -20° to -30° windchills.
Update: After over 40 hours Alan has arrived in Unalakleet.
March 21, 2009 Comments Off on Afternoon Update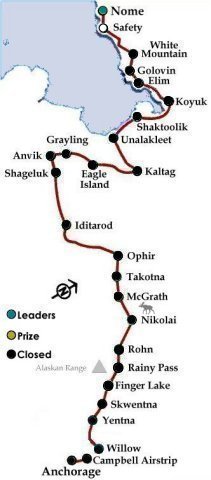 Chad Lindner (26)R is the first rookie into Nome. He pulled away after the weather improved.
Special mention for Jake Berkowitz (12) who arrived in Nome with all 16 dogs, the only complete team in the race. That has to be bittersweet for Robert Bundtzen (51), because Jake had a "puppy" team that belonged to Dr. Bundtzen and Zack Steer, and Dr. Bundtsen still isn't in Nome.
Today's finishers as of Midnight CDT:
19 Warren Palfrey (7)
20 Ray Redington Jr (10)
21 Matt Hayashida (19)
22 Sven Haltmann (53)
23 Linwood Fiedler (28)
24 Gerry Willomitzer (14)
25 Rick Swenson (8)
26 Judy Currier (22)
27 Gerald Sousa (36)
28 Bruce Linton (40)
29 Robert Nelson (23)
30 Chad Lindner (26)R
31 Jake Berkowitz (12)
32 Ed Stielstra (46)
[Read more →]
March 21, 2009 Comments Off on Race Day 14 – Iditarod