The CNN breaking story: At least 10 dead in two-town Alabama shooting spree
(CNN) — At least 10 people were killed Tuesday in a shooting spree that spanned two small southern Alabama towns, state officials confirmed. The gunman, and the wife and child of a sheriff's deputy were among those killed.

The shooting started in a neighborhood in Samson, a town of about 3,000 about 15 miles north of the Florida border, just after 4 p.m. (5 p.m. ET) and ended 12 miles away at a manufacturing plant in Geneva, said Alabama state Sen. Harri Anne Smith, who represents Geneva County.
Geneva is about 50 miles Northeast of me as the crow flies. It is located on the Choctawhatchee River which flows into the Choctawhatchee Bay. The bayou I live on is part of the Choctawhatchee Bay system.
When they get around to interviewing the neighbors you will hear either disbelief as the murderer "was a quiet person who kept to himself"; or "one of the friendliest people you would ever meet".  With luck someone will admit: "he has been crazy for years and no one would do anything about him." That is at least consistent in these incidents.
March 10, 2009 4 Comments
The lead group are in Nikolai:
1 Sebastian Schnuelle (34)
2 Hugh Neff (55)
3 Paul Gebhardt (15)
4 Aaron Burmeister (56)
5 Ed Iten (4)
6 Hans Gatt (25)
7 Lance Mackey (47)
But things are not rosy behind them.
The Anchorage Daily News reports that Nancy Yoshida (3) has crashed in the Happy River Gorge and is partially blocking the narrow trail. A sled is being sent to her after it became available because Bob Hickel (38) decided to scratch in Finger Lake. As expected the trail is deteriorating as more sleds pass over it.
Even worse a dog has died:
A dog in the team of North Pole musher Jeff Holt (68) today became the first animal to die in the Iditarod Trail Sled Dog Race.

Six-year-old Victor died between the Rainy Pass and Rohn checkpoints, according to a press release from the Iditarod Trail Committee.
The cause of death hasn't been determined.
March 10, 2009 4 Comments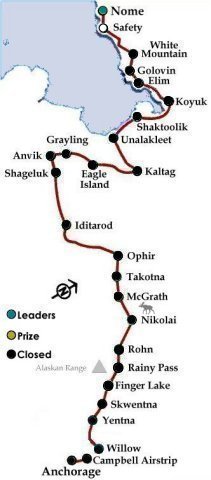 Five teams arrive at Rohn
1 Paul Gebhardt (15)
2 Sebastian Schnuelle (34)
3 Rick Swenson (8)
4 Aaron Burmeister (56)
5 Hugh Neff (55)
Melissa Owens (30) is doing very well in her second Iditarod. The 19-year-old from Nome is currently running in 6th place. Last year she made it back to Nome just in time for school.
Karin Hendrickson (29) is the leading rookie musher, back in 39th place. The hard part is scheduling rest. There will be a lot of different groups taking the lead as people tend to cluster based on similar rest patterns.
Note that I am counting only the days of the actual race, and don't include the pre-race parade in the count. Also note that I change days based on Central Daylight Savings Time, not Alaska time.
[10:45am CDT] Updated list of mushers out of Rohn below the fold. There are still 4 teams in Finger Lake.
[Read more →]
March 10, 2009 Comments Off on Race Day 3 – Iditarod