If you are the FDIC, it's: FirstCity Bank, of Stockbridge, Ga, Teambank National Association of Paola, Kan., and Colorado National Bank of Colorado Springs, Colo.
CNN-Money tells us that 3 banks fail – 20 so far this year
NEW YORK (CNNMoney.com) — Bank regulators closed three banks Friday, marking the 18th, 19th and 20th failures this year.

The FDIC estimates that the combined cost of the bank failures to its deposit insurance fund will be approximately $207 million.
The FCUA [FDIC for credit unions] wasn't quite as hungry: U.S. seizes 2 big credit unions
NEW YORK (CNNMoney.com) — The federal government, in its latest effort to prop up the financial system, took over two big wholesale credit unions Friday with combined assets of $57 billion.

U.S. Central Federal Credit Union in Lenexa, Kan., and Western Corporate Federal Credit Union in San Dimas, Calif., were placed under conservatorship "to stabilize the corporate credit union system and resolve balance sheet issues," according to the National Credit Union Administration.
These are credit unions for corporate credit unions, and being corporate they gambled instead of invested their assets.
March 20, 2009 Comments Off on What's On The Menu?
The Anchorage Daily News has a feature article on Larry: Mackey's famed lead dog hangs up his harness
Larry has finished eight Iditarods — seven with Mackey and one with former Mackey neighbor Paul Gebhardt from Kasilof — and four Yukon Quest International Sled Dog Races, not to mention dozens of middle-distance sled dog races.

His record as a leader is remarkable.

Larry has led teams in 10 races of 1,000 miles, and he has won seven of them. Along the Iditarod Trail, he has become almost as famous as Mackey.
…

Larry made a big name for himself in 2007 by becoming the dog to win the golden harness in both the Yukon Quest and Iditarod.
Larry is 9-years-old, and while Maple was the primary lead dog this year, Larry had to take over when the team encountered people, because Maple doesn't react well to crowds.
March 20, 2009 Comments Off on Larry Retiring
The Iditarod Trail committee has announced the death of Omen, an 8-year-old male, on the Rick Larson (5) team between Elim and White Mountain, and Maynard, a 5-year-old male, on the Warren Palfrey (7) team about an hour outside of Nome. There is no obvious reason for either death.
I looked at the records for both teams, and they weren't in active contention with anyone at the times of the deaths, just cruising towards the finish. The Larson team had been in a one-for-one rest/run regimen at the time, after an extended rest to wait out the wind. The Palfrey team was just loping towards the end with no one close to them.
March 20, 2009 15 Comments
A little more that two years after a US sub collided with a supertanker in the Strait of Hormuz, a US sub collides with US vessel:
Two U.S. navy vessels — a nuclear-powered submarine and an amphibious ship — collided during the early morning hours Friday in the Strait of Hormuz between Iran and the Arabian peninsula, the U.S. navy's 5th Fleet reported.
…

The military said in a statement that the incident occurred around 1 a.m. local time on Friday (5 p.m. ET Thursday), when the USS Hartford, a submarine, and the USS New Orleans, an amphibious ship, collided.
The Strait of Hormuz is a very narrow passage that is crowded with ships and boats; it is no place for a submarine. Both of the subs were Los Angeles class fast attack submarines.
March 20, 2009 9 Comments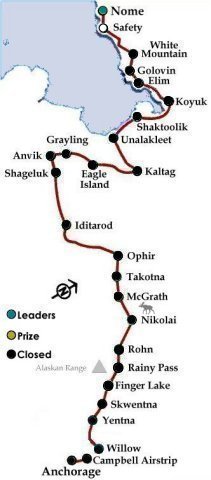 Ed Iten (4) of Kotzebue and Melissa Owens (30) of Nome scratched at Elim today. They were so close, but their dogs were not ready to go further. They are both from coastal towns and their dogs were raised in the winds and cold, so they were better prepared than others, but the dogs just didn't want to continue.
Aaron Peck (2) is on the trail between Shaktoolik and Koyuk, but he is running with 6 dogs, the minimum team. If any of his dogs has a problem, his race is over. He's from Grand Prairie, Alberta, and the winds chewed up his team.
Everyone has left Kaltag, so the race is around the Norton Sound
The recent finishers:
9 Ramey Smyth (16)
10 Hans Gatt (25)
11 Sonny Lindner (42)
12 Jeff King (41)
13 DeeDee Jonrowe (31)
14 Ken Anderson (54)
15 Hugh Neff (55)
16 Paul Gebhardt (15)
17 Aliy Zirkle (24)
18 Martin Buser (33)
[Read more →]
March 20, 2009 Comments Off on Race Day 13 – Iditarod
Pluck Your Magic Twanger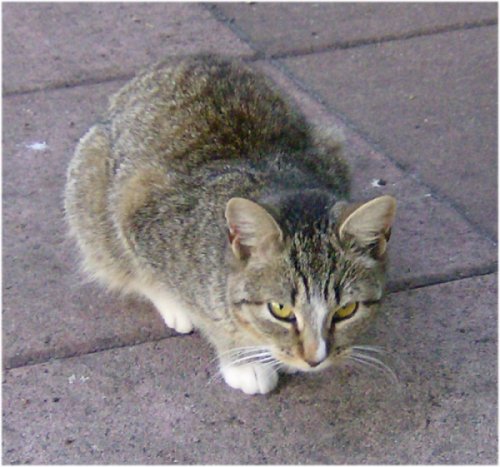 Ribbit?
[Editor: Froggy doesn't appear in a cloud of smoke, but he has a very weird voice for a cat, and his purring is not to be believed. The title goes back to Saturday morning radio, as does the name, Froggy.]
March 20, 2009 3 Comments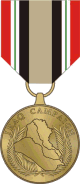 March 20th marks the sixth anniversary of the official invasion of Iraq. Of course, we now know that Special Forces teams went in earlier and the air forces of the US and Britain had been doing some "pre-emptive bombing" prior to the missile attacks on possible locations that the Shrubbery's intelligence services [as opposed to the CIA, NSA, DIA, and the regular intel groups] swore contained Saddam Hussein.
For those who have short-term memory problems: Iraq did not have WMDs and, as a result, was not in violation of UN Resolution 1441. The UN weapons inspectors were forced out of Iraq by the actions of the President of the United States, not the President of Iraq. The "intelligence" was selected to support the desires of the White House, not the reality on the ground.
March 20, 2009 2 Comments
It's that time of year. Spring arrives at 6:44AM CDT this morning. You can watch it come at Archæoastronomy.
The air is already filled with pollen and the live oaks are starting to drop last year's leaves.
March 20, 2009 4 Comments