Race Day 8 – Iditarod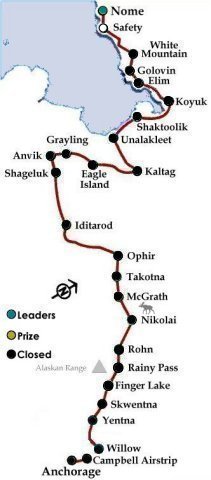 At midnight these were the top six:
1 Lance Mackey (47)
2 Hugh Neff (55)
3 Mitch Seavey (21)
4 Jeff King (41)
5 Sebastian Schnuelle (34)
6 Aaron Burmeister (56)
Sebastian and Aaron have been chasing Lance all day, but they needed to take their 8-hour mandatory rest on the Yukon, so Hugh, Mitch and Jeff have taken over the pursuit. We are in the end game.
Lance has a 3½ hour lead and more rest at this point than the chasers. If his team maintains their pace the only way of catching him is with taking less rest, but if you are tired you make mistakes, as Lance found out earlier. If your team doesn't get enough rest, there is no way of catching him. It is 70 miles to Kaltag, and then 90 to the coast at Unalakleet. Today should be interesting.
NPR discovered the race and did a feature on the back of the pack featuring Dr. Lou Packer (43): Rookie Dog Sledders Left Panting On Iditarod Trail.
Rob Loveman (50) has scratched in Ophir at the rear of the race. He was on his 24-hour rest.
The Current Standings as of 12:30 am CDT:
1 Lance Mackey (47)
2 Hugh Neff (55)
3 Mitch Seavey (21)
4 Jeff King (41)
5 Sebastian Schnuelle (34)
6 Aaron Burmeister (56)
7 John Baker (44)
8 Cim Smyth (37)
9 Sonny Lindner (42)
10 Paul Gebhardt (15)
11 Hans Gatt (25)
12 Aliy Zirkle (24)
13 Ken Anderson (54)
14 Dallas Seavey (62)
15 Ramey Smyth (16)
16 Jessie Royer (17)
17 Warren Palfrey (7)
18 Gerry Willomitzer (14)
19 Linwood Fiedler (28)
20 DeeDee Jonrowe (31)
21 Rick Swenson (8)
22 Martin Buser (33)
23 Ed Iten (4)
24 Bruce Linton (40)
25 Aaron Peck (2)
26 Matt Hayashida (19)
27 Sven Haltmann (53)
28 Judy Currier (22)
29 Ray Redington Jr (10)
30 Ryan Redington (13)
31 Jim Lanier (35)
32 Gerald Sousa (36)
33 Melissa Owens (30)
34 Robert Bundtzen (51)
35 Rick Larson (5)
36 Cindy Gallea (49)
37 Chad Lindner (26)R
38 Karin Hendrickson (29)R
39 Harry T Alexie (67)R
40 Bill Cotter (65)
41 Ed Stielstra (46)
42 David Sawatzky (66)
43 Allen Moore (6)
44 Jake Berkowitz (12)
45 Robert Nelson (23)
46 Mike Williams (39)
47 Wade Marrs (48)R
48 Eric Rogers (60)
49 Jeff Holt (68)
50 Michael Suprenant (11)R
51 Tom Thurston (27)R
52 Laura Daugereau (45)
53 Tim Osmar (57)
54 Rachael Scdoris (58)
55 Heather Siirtola (63)
56 Trent Herbst (20)
57 Jen Seavey (61)R
58 Alan Peck (32)R
59 Timothy Hunt (64)R
60 Lou Packer (43)R
61 Blake Matray (9)R
62 Kim Darst (52)R
63 Kurt Reich (59)R