Race Day 6 – Iditarod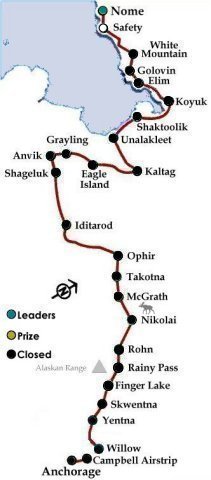 The Dorothy Page Halfway Award and $3,000 in gold nuggets go to Lance Mackey (47), or, more properly, to his 16 superdogs. They made the run from Ophir in under 10 hours, just over 9 mph. In fresh snow that's amazing.
Only Kim Darst (52)R and Rob Loveman (50)R have yet to arrive in McGrath.
The weather is forecast to get colder, which is good news for the dogs. Cold weather during the daylight also helps Rachael Scdoris (58), who is totally blind at night.
The Current Standings [12:50 AM CDT]:
1 Lance Mackey (47)
2 Aaron Burmeister (56)
3 Hugh Neff (55)
4 Sebastian Schnuelle (34)
5 Ken Anderson (54)
6 Jeff King (41)
7 Mitch Seavey (21)
8 Paul Gebhardt (15)
9 John Baker (44)

10 Cim Smyth (37)
11 Hans Gatt (25)
12 Aliy Zirkle (24)
13 Dallas Seavey (62)
14 Warren Palfrey (7)
15 Jessie Royer (17)
16 Bruce Linton (40)
17 Ramey Smyth (16)
18 Aaron Peck (2)
19 DeeDee Jonrowe (31)
20 Ed Iten (4)
21 Sonny Lindner (42)
22 Gerry Willomitzer (14)
23 Matt Hayashida (19)
24 Gerald Sousa (36)
25 Martin Buser (33)
26 Rick Swenson (8)
27 Cindy Gallea (49)
28 Jim Lanier (35)
29 Linwood Fiedler (28)
30 Rick Larson (5)
31 Judy Currier (22)
32 Melissa Owens (30)
33 Ray Redington Jr (10)
34 Sven Haltmann (53)
35 Ryan Redington (13)
36 Robert Bundtzen (51)
37 Karin Hendrickson (29)R
38 Chad Lindner (26)R
39 David Sawatzky (66)
40 Bill Cotter (65)
41 Ed Stielstra (46)
42 Allen Moore (6)
43 Mike Williams (39)
44 Jake Berkowitz (12)
45 Harry T Alexie (67)R
46 Jeff Holt (68)
47 Eric Rogers (60)
48 Michael Suprenant (11)R
49 Jen Seavey (61)R
50 Wade Marrs (48)R
51 Robert Nelson (23)
52 Rachael Scdoris (58)
53 Tim Osmar (57)
54 Tom Thurston (27)R
55 Laura Daugereau (45)
56 Heather Siirtola (63)
57 Trent Herbst (20)
58 Timothy Hunt (64)R
59 Alan Peck (32)R
60 Kurt Reich (59)R
61 Lou Packer (43)R
62 Blake Matray (9)R
63 Kim Darst (52)R
64 Rob Loveman (50)R