Race Day 13 – Iditarod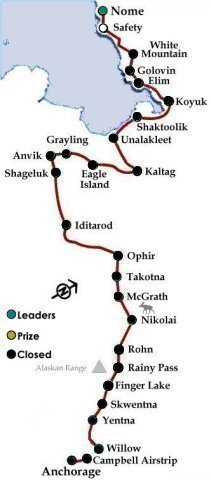 Ed Iten (4) of Kotzebue and Melissa Owens (30) of Nome scratched at Elim today. They were so close, but their dogs were not ready to go further. They are both from coastal towns and their dogs were raised in the winds and cold, so they were better prepared than others, but the dogs just didn't want to continue.
Aaron Peck (2) is on the trail between Shaktoolik and Koyuk, but he is running with 6 dogs, the minimum team. If any of his dogs has a problem, his race is over. He's from Grand Prairie, Alberta, and the winds chewed up his team.
Everyone has left Kaltag, so the race is around the Norton Sound
The recent finishers:
9 Ramey Smyth (16)
10 Hans Gatt (25)
11 Sonny Lindner (42)
12 Jeff King (41)
13 DeeDee Jonrowe (31)
14 Ken Anderson (54)
15 Hugh Neff (55)
16 Paul Gebhardt (15)
17 Aliy Zirkle (24)
18 Martin Buser (33)

Current Standings on the Trail:
19 Warren Palfrey (7)
20 Ray Redington Jr (10)
21 Matt Hayashida (19)
22 Sven Haltmann (53)
23 Linwood Fiedler (28)
24 Rick Swenson (8)
25 Gerry Willomitzer (14)
26 Judy Currier (22)
27 Gerald Sousa (36)
28 Robert Nelson (23)
29 Bruce Linton (40)
30 Ed Stielstra (46)
31 Jake Berkowitz (12)
32 Chad Lindner (26)R
33 Robert Bundtzen (51)
34 Allen Moore (6)
35 Jim Lanier (35)
36 Ryan Redington (13)
37 Harry T Alexie (67)R
38 Bill Cotter (65)
39 Rick Larson (5)
40 David Sawatzky (66)
41 Karin Hendrickson (29)R
42 Cindy Gallea (49)
43 Mike Williams (39)
44 Aaron Peck (2)
45 Eric Rogers (60)
46 Wade Marrs (48)R
47 Tom Thurston (27)R
48 Tim Osmar (57)
49 Rachael Scdoris (58)
50 Jen Seavey (61)R
51 Heather Siirtola (63)
52 Trent Herbst (20)
53 Michael Suprenant (11)R
54 Alan Peck (32)R
55 Timothy Hunt (64)R