Race Day 15 – Iditarod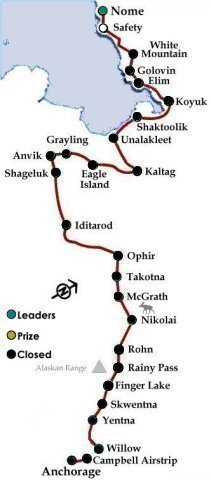 David Sawatzky (66) was faced with the ultimate frustration. He has scratched after leaving Safety for Nome because his dogs just didn't want to move. He led them for several miles, but fatigue got the best of him. His 11 dogs made it to Safety at about 7 mph, so they still had the pace, but the leader apparently quit.
The "red lantern", Alan Peck (32)R, is on the trail beyond Unalakleet headed for Shaktoolik.
Finishers as of Midnight CDT:
33 Allen Moore (6)
34 Robert Bundtzen (51)
35 Jim Lanier (35)
36 Ryan Redington (13)
37 Harry T Alexie (67)R
38 Bill Cotter (65)
39 Rick Larson (5)
40 Karin Hendrickson (29)R
41 Cindy Gallea (49)
42 Mike Williams (39)
Still on the Trail:
43 Jen Seavey (61)R
44 Tom Thurston (27)R
45 Wade Marrs (48)R
46 Tim Osmar (57)
47 Rachael Scdoris (58)
48 Eric Rogers (60)
49 Heather Siirtola (63)
50 Michael Suprenant (11)R
51 Trent Herbst (20)
52 Timothy Hunt (64)R
53 Alan Peck (32)R