Posts from —
March 2010
You would have thought that with all of the rocks that have been turned over in the local political scene lately, and all of the "evil doers" discovered among the political class, as well as the rise of the "Tea Party Movement", there would have been some changes made by voters.
You would be wrong. The local Republicans selected Matt Gaetz, the son of the current state senator for the area, Don Gaetz. He was the choice of the good ol' boy network and they awarded him with an obscene amount of money.
The election will be in April, when three-quarters of the current legislative session is over, and there will have to be another election in the Fall. This is absurd and has cost the county a lot of money for these special elections.
We should just select someone at random from the jury pool. It would be a lot cheaper and the individual couldn't get much worse than what we've had in the past.
March 24, 2010 Comments Off on There's No Change Like No Change
And it was the worst of the two bills rewarding the health insurance corporations.
A news flash for all those people who think that this bill stops insurance companies from canceling policies when a policy holder gets sick – the same language has been in effect for decades, and the companies use the "fraud" loophole to cancel policies now, so they'll continue to do it. Nothing changed on rescission.
Under this bill people are required to buy insurance, but companies aren't required to sell it. That isn't a level playing field.
You can't be excluded for pre-existing conditions, but there is no limit on what you can be charged, so you won't be able to afford what is offered. You will get dumped in a high risk pool and pay a lot of money for insurance you won't be able to use because you won't have the money for the deductibles and co-pays. Congratulations, you'll have insurance, but still won't have health care.
This bill isn't the foundation for anything. It can't be fixed, it can only be replaced. It ignores all of the real savings that are available to reduce the cost of health care by eliminating all of the middle men who are costing the US between $300 and $500 billion per year.
For all of the A-listers who obviously don't know: the American Medical Association is made up of the 30% of doctors who have paid off their college loans and are part of the investor class, and the AARP is an insurance broker. Of course they support this piece of garbage, it's good for their bottom line.
March 23, 2010 10 Comments
March 23, 2010 11 Comments
McClatchly ran an article on the bankruptcy of LandAmerica 1031 Exchange Services Inc.. A lot of the investors are upset that the Federal government didn't bail out LandAmerica.
Excuse me, but LandAmerica was a tax dodge. If you didn't want to pay the capital gains taxes due after selling your house, you put the money in 1031 [IRS code number] fund and then bought your next house. Why would anyone expect the Federal government to bail out a tax shelter?
If these people had paid the 15% capital gains tax, they wouldn't have lost 75% of their money. If you view your house as an investment, rather than a place to live, you should read the fine print about there being no guarantee of a profit.
The woman at the end of the article who doesn't want to cash the check for $84,000 because she thinks it will affect her food stamps and heating assistance, is totally lost in space. The state of New Jersey will make her pay back all of the assistance she has received since she received the check, and she could face criminal charges over failing to report it. What planet do people like this live on?
March 22, 2010 5 Comments
The same Florida Senate that is advocating cutting the salaries of state employees [who haven't had a raise in four years, BTW] is pushing to give raises to their staff!
How stupid are these people? They expect those who work for the people of Florida to absorb the inflation of the last four years, and then have their pay cut, but those who work for the part-time legislators deserve a more money‽
It's at times like these that you see the reason we have term-limited our legislators. The state would be better off if we selected the legislature at random from the jury pool.
March 22, 2010 Comments Off on Just Clueless

Rookie Celeste Davis (58) of Deer Lodge, Montana got to the burled arch in 13 days, 5 hours, 6 minutes, and 40 seconds. Her finish was the fastest for the last competitor in the Iditarod, and would have been the record for the race prior to 1981.
Seventy-one teams and 1,136 dogs started the race, but only 55 teams and 550 dogs passed under the "arch".
Among the 16 that didn't make it: Karen Ramstead has personal reasons; Justin Savidis had a dog decide to go off on his own; Karin Hendrickson & Kathleen Frederick had equipment problems; Pat Moon & Judy Currier had injuries; Zoya DeNure & Michael Suprenant had medical problems; and the other eight had unhappy puppies. This is a sled dog race, and if the puppies aren't happy, the racing stops.
Bruce Linton (65) was concerned that he might have to scratch when his insulin pump froze on the run through the Yukon River valley. Fortunately, he was able to get what he needed at the next checkpoint.
I am happy to report that no dogs have died this year, which is the first time this has occurred in the race's history. After last year's sad losses, there has been more effort in ensuring that rookies are doing effective dog care. The other plus was that the warmer weather occurred at the start of the race when the dogs were in much better shape to tolerate the heat. The experienced mushers ran at night to reduce overheating problems.
Below the fold are the final standings
March 21, 2010 7 Comments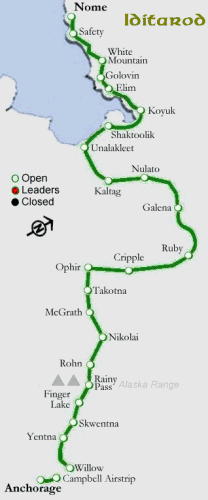 The Red Lantern is at White Mountain Nome so the three to four marathons a day the puppies have been running are about over.
Scott White stopped at Safety. That doesn't normally happen, 22 miles from the end, so I hope he doesn't have a problem this close to the end. He left White Mountain with only 7 dogs on his team, so he is on the edge. [Scott moved on, but the Scot, John Stewart felt he had to scratch at White Mountain in the best interests of his 7 dogs. 🙁 ]
While Jane Faulkner arrived a half hour before Celeste, I suspect she will wait until Celeste can leave to finish the race. [Jane waited, as I expected.]
There are light winds, scattered snow, and temperatures in the twenties, so it will be a pleasant spring day, for Nome, to finish the race.
At Nome
45 Wattie McDonald (4)R
46 Lachlan Clarke (63)
47 Newton Marshall (14)R
48 Billy Snodgrass (70)
49 Trent Herbst (60)
50 Chris Adkins (33)R
51 Dave DeCaro (52)R
52 Ross Adam (18)
53 Jane Faulkner (22)R
54 Scott White (13)R [16 hours to travel 22 miles]
55 Celeste Davis (58)R Φ 8:06PM local
At White Mountain
56 John Stewart (69)R [Scratched only 77 miles from his goal]
March 20, 2010 2 Comments
It's that time of year. Spring arrives at 12:32PM CDT this afternoon. You can watch it come at Archæoastronomy.
The air is already filled with pollen and the live oaks are starting to drop last year's leaves.
March 20, 2010 6 Comments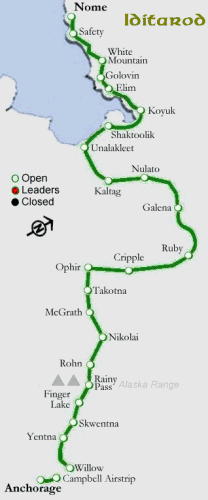 Looks like Ross Adam decided to get some extra sleep [or needed an extra lantern] and went to the back. Wattie has all 16 puppies at White Mountain [is there single malt involved in the puppies' happiness?]. The Iten family has its newest Iditarod veteran. Kristy Berington gets to unbend after leaning her 6-foot frame over the sled for two weeks [tall is not good in mushing unless you can afford a custom sled]. Sam Deltour can go to med school in Belgium knowing he is one of a handful of people who has finished the Quest and Iditarod in the same year.
The race is confined to the north coast of the Norton Sound and should be over tomorrow.
At Nome
24 Jim Lanier (43)
25 Bruce Linton (65)
26 Michael Williams, Jr. (59)R
27 Michelle Phillips (36)R
28 Peter Kaiser (67)R
29 Thomas Lesatz (62)
30 Gerald Sousa (48)
31 Robert Nelson (32)
32 Jason Barron (71)
33 William "Middie" Johnson (16)R
34 Matt Hayashida (12)
35 Allen Moore (54)
36 Colleen Robertia (61)R
37 William Pinkham (40)
38 Quinn Iten (28)R
39 Kristy Berington (38)R
40 Cindy Gallea (39)
41 Sam Deltour (66)
42 Blake Freking (11)
43 Tamara Rose (26)R
44 Art Church, Jr (24)
45 Wattie McDonald (4)R [with all 16 puppies!]
46 Lachlan Clarke (63)
47 Newton Marshall (14)R
March 19, 2010 10 Comments
A Moocher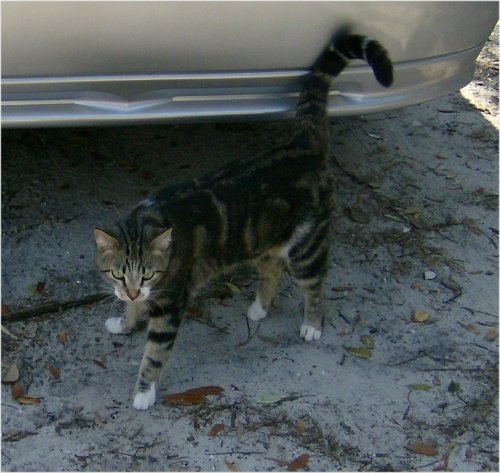 Oh, Hi! Will dinner be soon?
[Editor: I know who this young lad belongs to, and she won't be pleased to have to come over and collect him again. He is a clever young thing and manages to get out about once a month to see if the food is better elsewhere.]
In Memoriam
Samantha, beloved friend of Steve and Stella.
March 19, 2010 7 Comments
I'm sick of it!
I remember seeing this garbage with candy bars for years – the price stays the same, but the size of the candy bar varies. Then I noticed it in cat food. The price of the largest bag of kibble stayed the same, but the weight went from 20 pounds to 18 pounds, and is now at 16 pounds during the last six months.
Yesterday I saw it with soft drinks – the 24-can box now only contains 20 cans but the price remains the same.
I guess if you sell to WalMart et al. you want to maintain the so-called "low price".
March 18, 2010 25 Comments
The Florida House is just as incompetent: House panel passes proposal for insurance to rise without approval
TALLAHASSEE — A proposal to allow property-insurance companies to raise home-owners rates without regulatory approval passed a House committee Wednesday and was amended to include much of an insurance industry wish list.

Its supporters say the proposal would attract more insurance capital to the state and increase options for consumers. A less-ambitious version passed last year was vetoed by Gov. Charlie Crist, who says he's still against it.
…

"I fear that you oppose this bill because you have a lack of faith in that free-market system," said Rep. Ritch Workman, a Melbourne Republican. "A private business will eventually learn when they have charged too much. From the consumer perspective, there are people that would like very much to spend more to get more."
Mr. Workman wouldn't know a free market if he fell in it. This is a total waste of time because the insurance companies don't want to take any risks, and there are risks associated with insuring property in an area that has hurricanes. Mr. Workman is apparently too ignorant to know that risk is the regulator of a market in the absence of actual government imposed rules, and corporations are specifically created to limit risk.
This bill requires people to pay more to get basic insurance, and then pay again for an attorney to actually get the insurance company to pay them what is owed. The only thing that insurance companies pay for are legislators to avoid having to provide what they agree to in their policies.
March 18, 2010 Comments Off on It Isn't Just The Florida Senate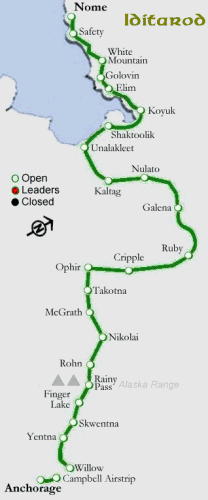 Dan Kaduce is the first rookie at Nome, and Jim Lanier proves you can do this at 69 years of age.
Cim Smyth and the persistent half dozen made it and moved up several places in the process. Wattie McDonald still has all 16 of the dogs that started, and Colleen Robertia is at White Mountain with 14 of her "3Rs" still ready to run. Blake Freking is down to 11 Siberians.
At the back Celeste Davis handed Jane Faulkner the Red Lantern, but it was only a matter of a minute, and it is highly likely that they will settle the issue after Safety with their own race.
At Nome
15 Jessie Royer (6)
16 Aliy Zirkle (50)
17 Sven Haltmann (42)
18 Sonny Lindner (44)
19 Paul Gebhardt (7)
20 Rick Swenson (57)
21 Dan Kaduce (64)R
22 DeeDee Jonrowe (31)
23 Cim Smyth (3)
24 Jim Lanier (43)
25 Bruce Linton (65)
26 Michael Williams, Jr. (59)R
27 Michelle Phillips (36)R
28 Peter Kaiser (67)R
29 Thomas Lesatz (62)
30 Gerald Sousa (48)
31 Robert Nelson (32)
32 Jason Barron (71)
33 William "Middie" Johnson (16)R
34 Matt Hayashida (12)
35 Allen Moore (54)
36 Colleen Robertia (61)R [14 "runts, rejects, rescues"]
March 18, 2010 8 Comments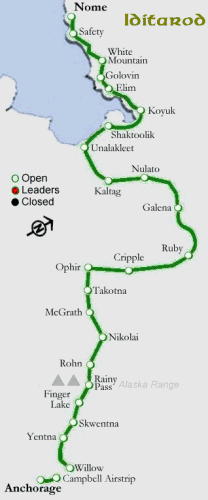 Jeff King arrived in Nome in 9 Days 2 Hours 22 Minutes 17 Seconds, the four-time winner's best time ever, and it is only good enough for third this year.
Cim Smyth (3) is sitting in White Mountain hoping that every dog on his team is a happy puppy – he only has the minimum 6 dogs left, and will be withdrawn if they aren't all ready to go.
The Scot, Wattie McDonald (4), is on the trail beyond Unalakleet with 16 happy puppies, the only full team that can make it to Nome this year.
At Nome
3 Jeff King (15)
4 Ken Anderson (51)
5 John Baker (8)
6 Ramey Smyth (21)
7 Sebastian Schnuelle (35)
8 Dallas Seavey (19)
9 Hugh Neff (56)
10 Mitch Seavey (41)
11 Ray Redington, Jr (9)
12 Zack Steer (47)
13 Gerry Willomitzer (55)
14 Martin Buser (37)
15 Jessie Royer (6)
16 Aliy Zirkle (50)
17 Sven Haltmann (42)
18 Sonny Lindner (44)
19 Paul Gebhardt (7)
20 Rick Swenson (57)
21 Dan Kaduce (64)R
March 17, 2010 2 Comments