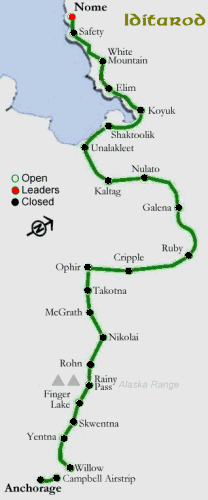 Ray Redington Jr. led off at 2PM AKST [5PM CST] but his brother Ryan won't get to leave until 4:10PM AKST [7:10PM CST].
The sun sets at 6:34PM AKST, but the moon is 86% full tonight and the skies are forecast to be clear. The temperature at start time was 19° F [-7° C]. There is snow forecast from Willow to Skwentna tomorrow, with temperatures in single digits.
Things should be fast for the teams up front, but the back of the pack will probably being pushing snow as the sleds in front degrade the trail.
I will wait until later to post positions, which are still in the parade order from yesterday.
Ray made it to Yentna at 5:44PM AKST [8:44PM CST] and left five minutes later.
At 11:30PM CST:
Beyond Yentna
1 Ray Redington Jr (2)
2 Jodi Bailey (6)
3 Tom Thurston (5)
4 William Pinkham (4)
5 Cim Smyth (8)
6 Jeff King (10)
7 Nicolas Petit (9)
8 DeeDee Jonrowe (17)
9 Aliy Zirkle (14)
10 Kelley Griffin (20)
[Read more →]
March 4, 2012 2 Comments