Don't forget to "Spring Ahead" as they steal an hour from your life by eliminating 2AM Sunday morning.
This really screws up the time keeping on the Iditarod, and makes the cats less than happy.
March 10, 2012 6 Comments
Both Lance Mackey and Karen Ramstead have a "problem".
Karen's problem is much worse that Lance's as 7 of her dogs have gone into heat on the trail, which leads to major complications whenever the team stops.
Lance only has one dog in heat, but it's Maple, his go-to lead dog.
The boys are not thinking about racing.
—
Scott Janssen, 'the Mushing Mortician', had to give CPR to Marshall, a 9-year-old on his last Iditarod. Janssen, a funeral director, said that while the team was descending the Dalzell Gorge, Marshall just fell over, and wasn't breathing when Janssen got to him. Chest compression and mouth-to-snout breathing got him going again, but Marshall rode in the sled bag to Rohn where the vets took over.
Best guess is a heart problem of some kind. Marshall is heading back to Anchorage and retirement.
March 10, 2012 4 Comments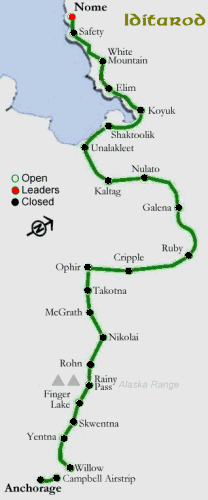 Mitch took back the lead from Aliy, but it is only 2:33 and he has to stop someplace.
Jeff King had a very good run between Ruby and Galena, so he should continue to move up and John Baker's puppies are happy as well.
Zoya DeNure and her team of 'Rescues, Runts, and Rejects' has had to scratch at Cripple. She left with 12 dogs, and then returned to scratch. [She didn't like the look of the dogs on the trail.]
Aliy likes being at the front, and that's where she's been through Nulato and into Kaltag.
John Baker is positioning himself for his challenge on along the coast, which is his training area. His puppies will smell 'home' when they reach the coast. Aliy and John have nearly identical times between Nulato and Kaltag.
Update: Mitch picked up $3K for being first to the Yukon at Ruby, but no meal. The sponsor of that prize has dropped it, and Scott Janssen stepped up with the $3,000. [As Scott is a funeral director, I hope they don't link the prize to his business.]
Update at 10:45PM CST:
Beyond Kaltag
1 Aliy Zirkle (14)
2 John Baker (11)
3 Mitch Seavey (35)
4 Aaron Burmeister (44)
At Kaltag
5 Dallas Seavey (34)
6 Jeff King (10)
Beyond Nulato
7 Jake Berkowitz (29)
8 Peter Kaiser (28)
9 Ray Redington Jr (2)
10 DeeDee Jonrowe (17)
11 Sonny Lindner (59)
12 Ramey Smyth (21)
13 Sigrid Ekran (24)
14 Ken Anderson (39)
15 Gerry Willomitzer (23)
16 Michelle Phillips (26)
17 Michael Williams Jr (51)
[Read more →]
March 10, 2012 Comments Off on Iditarod XL Day 7