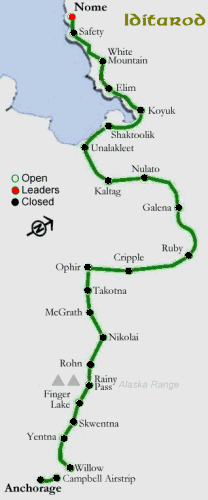 The course is down to the 77 miles between White Mountain and Nome. Dan Seavey is heading in, while the Red Lantern is waiting out the 8-hour mandatory rest period at the checkpoint.
The best news is that, barring some unforeseen event, all three will finish and get their buckles, some of the most expensive belt buckles in the world when you look at the time and effort required to move by dogsled across 1000 miles of Alaska. I would hope that Bob lets Jan have the Red Lantern, rather than holding back. If you receive the Red Lantern your name is on the short list for the race, and you get an actual lantern to take home and prove you did it.
Dan Seavey made it in, His Safety to Nome time was faster than any of the first five finishers. His puppies were happy to see the "vacation" end.
At about 11:30PM CDT the Jan & Bob show was 2 miles from Safety, so they have missed the banquet but might make it in around midnight AKDT.
I'll do a Red Lantern post tomorrow which will finish off my sled dog racing obsession for another year.
Update at 5:30PM CDT
Finished At Nome
46 Travis Cooper(19)R
47 Jaimee Kinzer (30)R
48 Matt Failor (57)R
49 Hank Debruin (48)Q
50 Karen Ramstead (56)
51 Dan Seavey (65)
Beyond White Mountain
52 Jan Steves (40)R
53 Bob Chlupach (49)Φ
The Mushers in bold are former winners of the Iditarod, while italics indicates Yukon Quest winners. The numbers in parentheses are their Bib numbers. The small "R" indicates a total rookie, while the small "Q" indicates an Iditarod rookie who has completed a Yukon Quest.
These are the official standings. That means they are official, not that they are correct. Things jump around a lot as people decide to update the standings. This problem is especially bad in the back of the pack, as no one bothers to update those standings when the lead is changing.
This post will be updated during the day, and the map changed on all posts to reflect the current situation.
All posts on the Iditarod can be seen by selecting "Iditarod" from the Category box on the right sidebar.
March 18, 2012 Comments Off on Iditarod XL Day 15