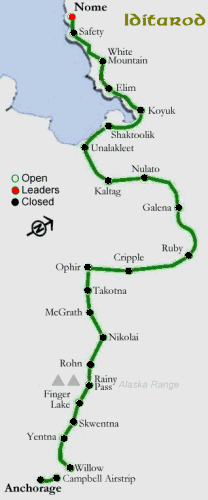 The top 10 are in this morning, but the route between Unalakleet and Koyuk really compressed the field and slowed things down for those who arrived at the coast after the wind picked up.
Kirk Barnum scratched in Kaltag. The puppies weren't happy and the run up the coast was next. If they didn't like the wind from the side, they would have hated it in their faces.
Michael Suprenant (13) scratched at Unalakleet after the puppies looked at the Weather Channel and took a vote on a strike action [just kidding, but dogs don't like the conditions on the coast.]
Update at 10PM CDT
Finished At Nome
1 Dallas Seavey (34)
2 Aliy Zirkle (14)
3 Ramey Smyth (21)
4 Aaron Burmeister (44)
5 Peter Kaiser (28)
6 Ray Redington Jr (2)
7 Mitch Seavey (35)
8 Michael Williams Jr (51)
9 John Baker (11)
10 DeeDee Jonrowe (17)
11 Sigrid Ekran (24)
12 Ken Anderson (39)
13 Brent Sass (50)Q
14 Sonny Lindner (59)
15 Paul Gebhardt (25)
[Read more →]
March 14, 2012 Comments Off on Iditarod XL Day 11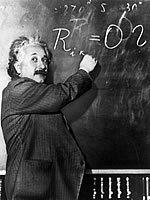 3/14 is Albert's birthday and

I assume you have all shopped for the perfect gift.
To get you started: Π ≅ 3.14159265358979323846264338327950288419
716939937510582097494459230781640628620899862803482534211 70679…..
March 14, 2012 3 Comments