The ABC is reporting on Tropical Cyclone Lua:
Communities on Western Australia's north-west coast are being told to expect the strongest cyclone since Yasi devastated the Queensland coast last year.

Cyclone Lua is expected to cross the coast in a sparsely populated area between Port Hedland and Broome early this afternoon, local time.

Cattle stations will bear the brunt of destructive winds that are forecast to be moving at up to 270 kilometres an hour.
This is the Australian Met Bureau's advisory: Lua.
The US Navy's Joint Typhoon Warning Center in Hawaii is classifying the storm well below what the Australians are reporting, but the Australians have better data, so I would go with their estimates, which make the storm the equivalent of a Category 5 hurricane. The 270 kph sustained winds, is 168 mph.
I wish them well.
March 16, 2012 Comments Off on Tropical Cyclone Lua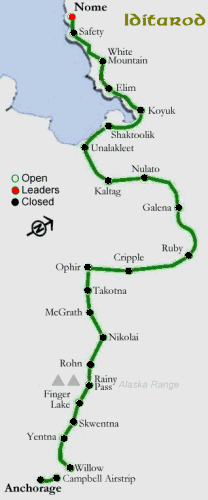 Half of the teams that started the race had made it into Nome by yesterday. The teams are all finally on the coast, but the temperatures are dropping again and the wind out of the North is still there for -40° [F/C] wind chills.
Jan Steves and Bob Chlupach are going to have a cold run up the coast. Dan Seavey, the grandfather of the winner, should be into is in Koyuk this morning.
Looking at the times of the finishers, it is obvious that the winds added about 9 hours to everyone after Hugh Neff who was 17th. The Busers were next, and Martin would never have allowed Hugh a 9-hour cushion. Before and after the separations average about an hour or so, but then there is this huge gap.
Update at 11:00PM CDT
Finished At Nome
31 Ryne Olson (46)R
32 Kelly Maixner (12)
33 Jim Lanier (3)
34 Mike Santos (22)R
35 Bruce Linton (36)
36 Karin Hendrickson (43)
37 Trent Herbst (16)
38 Matt Giblin (52)
39 Scott Janssen (37)
40 Curt Perano (61)R
41 Art Church Jr (64)
42 William Pinkham (4)
43 Anna Berington (33)R
44 Kristy Berington (31)
45 Justin Savidis (38)
[Read more →]
March 16, 2012 Comments Off on Iditarod XL Day 13
The Hunt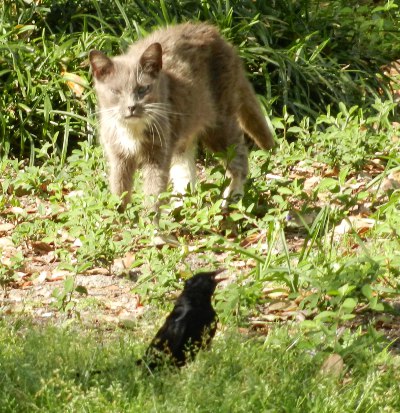 Shhhh…
[Editor: Tonto is once again going to discover that grackles aren't as stupid as doves, and will find the spot empty when she springs. Hope springs eternal, and every Spring Tonto hopes to get a grackle.]
March 16, 2012 4 Comments