The Ides of March haven't been kind to emperors over the years [Julius Caesar 44 BCE / Ferdinand I of Austria-Hungary 1848 / Nicholas II of Russia 1917] but the weather was beautiful today.
It was perfect weather to dig up a water line to fix a leak just beyond the meter. [May whoever decided that ABS plastic pipe was suitable for the main supply line to a house rot in the hell of his/her persuasion.]
March 15, 2012 2 Comments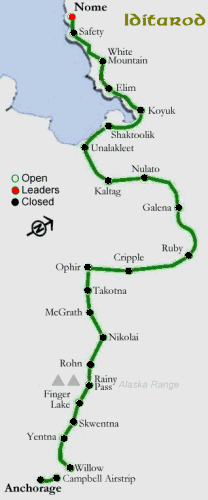 The 'convoy' is coming in as a group. The group that formed to push up the coast in the winds left White Mountain this morning for a 77-mile sprint race to Nome.
Colleen Robertia's team of 'rescues, rejects, and runts' is still being led by Penny, her 30-pound 7-year-old who makes up for size with spirit and attitude. The Anchorage Daily News did a piece on Penny in 2010. Colleen's husband has been blogging the race.
The official site is very slow with updates after the first teams are in, while I hang around until the Red Lantern is out. I don't look at these things as just winning – it's the finishing that matters, and that's a lot harder at the back than the front.
Hank Debruin, who runs pedigreed Siberians, spent nearly an entire day on the trail from Shaktoolik to Koyuk, a distance of 48 miles. I assume he lost the trail in the wind blown snow and drifting.
Update at 11:30PM CDT:
Finished At Nome
16 Michelle Phillips (26)
17 Hugh Neff (27)
18 Martin Buser (41)
19 Rohn Buser (62)
20 Gerald Sousa (58)
21 Colleen Robertia (42)
22 Lance Mackey (18)
23 Jodi Bailey (6)
24 Cim Smyth (8)
25 Ed Stielstra (45)
26 Anjanette Steer (32)R
27 Kelley Griffin (20)
28 Braxton Peterson (63)R
29 Nicolas Petit (9)
30 Rick Swenson (60)
31 Ryne Olson (46)R
32 Kelly Maixner (12)
33 Jim Lanier (3)
[Read more →]
March 15, 2012 10 Comments
I've seen a lot of blogivating about the results of the Republican primaries in Mississippi and Alabama, and how having them finish Santorum, Gingrinch, and Rmoney, showed how off the wall the GOP is in both states.
Wrong. If you want to know how insane these people are consider who won the Republican primary for Chief Justice of the Alabama Supreme Court – Roy Moore! He was the outright, over 50% winner of the vote. The guy who was thrown out of that office in 2003 [a unanimous decision by a judicial panel] for refusing to comply with the order of a Federal judge about removing his Ten Commandments monument from the Supreme Court building, a chunk of rock that he personally had put into place without consulting anyone else. He is now the official Republican candidate for the office.
What amazes me is that there are still some people who say they are liberals/progressives and who believe you can reason with Republicans. Republicans inhabit a separate space-time continuum, and they cannot be reached.
March 15, 2012 7 Comments