Your own size!
Limbaugh has been bad-mouthing women for years, but then he made the fatal mistake, the unforgivable error for the media, he attacked an ordinary individual, someone with whom people could relate.
This isn't written down anywhere that I know of, but it is a hard and fast rule.
Consider – The News of the World had been invading people's privacy for over a century, but then they hacked the cell phone of Milly Dowler, a school girl who was abducted and then murdered. The paper was shut down and James Murdoch has resigned from the board of the corporation that owned it to escape further 'personal problems' as an in-depth investigation continues with multiple arrests being made.
Don Imus had been an annoying jerk on the radio for years, saying outrageous things about people that entire time, but them he made an incredibly stupid remark about the Rutgers women's basketball team – a small group of readily identifiable individuals, young university students. He passed into history.
Andrew Breitbart gained infamy for the hit-job he organized on ACORN with heavily edited video tapes, and was being feted by all kinds of people as a 'new muckraker'. Then he did the same thing to Shirley Sherrod, and his star dropped like a rock. Lying about groups is safe, but don't lie about ordinary people, especially people who will sue you.
Sandra Fluke was the line that should never be crossed, because people will react. Advertisers know this, and they fled the scene. There is power in the individual, as evidenced by politicians using the stories of individuals to make their talking points. Everyone can relate to ordinary people who aren't rich or famous, in a way they can't relate to those who have power. As one advertiser put it – 'I have daughters Ms Fluke's age'.
Limbaugh will exit stage right. Maybe not immediately, but he has made himself and his program a liability to advertisers.
March 6, 2012 7 Comments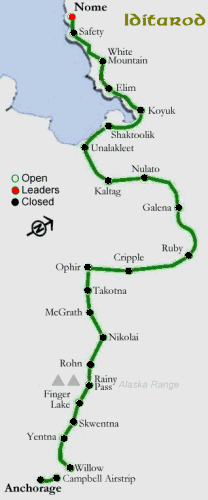 The 'Burn' on the trail to Nikolai is on tap today. Hopefully the snow has covered the worst of it and there won't be any injuries to dogs, people, or sleds this year.
The standings as of 11:30PM CST: [There was a traffic jam at Nikolai as the first 6 teams wanted to leave at the same time]
Beyond Nikolai
1 Aliy Zirkle (14)
2 John Baker (11)
3 Jeff King (10)
4 Lance Mackey (18)
5 Mitch Seavey (35)
6 Hugh Neff (27)
7 Paul Gebhardt (25)
8 Dallas Seavey (34)
9 Ray Redington Jr (2)
10 Aaron Burmeister (44)
11 Gerry Willomitzer (23)
12 Rick Swenson (60)
13 DeeDee Jonrowe (17)
14 Kelley Griffin (20)
15 Michael Williams Jr (51)
16 Ramey Smyth (21)
17 Brent Sass (50)Q
18 Cim Smyth (8)
19 Tom Thurston (5)
20 Josh Cadzow (55)Q
[Read more →]
March 6, 2012 4 Comments