I haven't been putting up much other than the Iditarod coverage because I have too much going on in Real Life™.
I'm building a security light system to cover a very dark spot among the little duplexes that my Mother manages. I'm trying to install a low voltage lighting system around my Mother's water garden to comply with regulations designed for swimming pools. I'm attempting to repair a bad threshold and exterior door to the kitchen in my house. I'm planning on replacing the decking at the back of my Mother's house.
This is in addition to all of the other little things that come up every day, like shopping, cooking, eating … the little details of life.
And then there is the thing that I am most involved with at the moment – The War.
I had to bail out one of the Underhouse crew from Animal Control because she was trapped by a neighbor, who is attempting to make everyone's life miserable. Her latest tactic is trapping cats by enticing them onto her property with tuna fish, and, i kid you not – red salmon. I love red salmon, but I won't pay what they charge for it, and she is using it to attract cats. Why not Beluga caviar?
I am in charge of building a barrier between this individual and the rest of the tenants in the area. The owner turned down my first choice – 12-foot chainlink topped with razor wire and land mines, so I'm planting azaleas and a flag pole on the line to shield the 4-foot fence that will be in place, and no one needs to discuss its possible problem with 'static electricity' that 'is caused the use of metal stakes and fencing, interacting with the high water table, and the acidic soil.' [When it comes to BS, it is a good thing science education in this country is so inadequate.]
I'm now researching repellants to see if there is some way of keeping the cats away from her house. The bail could mount up, and it is a funding source for Animal Control, so they aren't apt to accept that this individual is just causing trouble and should be ignored.
It was so much easier when I could just call in an air strike…
PS – cat blogging will be delayed and may feature a mug shot.
March 8, 2012 2 Comments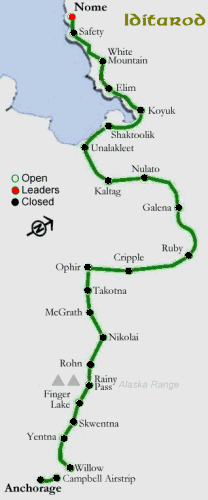 Lots of news today.
Jim Lanier and Trent Herbst are going for the "Halfway" award at Cripple [$3000 in gold nuggets last year] while the leaders at Takotna have finished their 24-hour and are hitting the trail again. The Busers are taking their 24-hour at Ophir.
Silvia Furtwängler (54) of Norway became the team to scratch. She decided exit the race at Nikolai because of concerns for her own health, after spending almost a full day to make the run from Rohn to NiKolai. She and Sigrid Ekran (24), also of Norway, were the only two of the three teams not from North America this year. [My apologies to Curt Perano (61) of New Zealand.]
Ryan Redington (67) has scratched at Takotna 'for personal reasons'. He was down to 10 dogs and didn't seem to be able to move up.
Jim Lanier scored the $3K in nuggets for arriving at Cripple first. I assume that he and Trent will stop for their 24-hour break there, Leaving the front of the race to Mitch and Dallas Seavey with John Baker and Aliy Zirkle chasing.
Obviously Aliy likes leading rather than chasing, so she rested before Cripple and blew through the checkpoint, and Mitch had to play catch-up and go after her. John Baker will continue with his plan, and will not react to anything until the end of the race.
Wade Marrs scratched at Ophir. He didn't like the look of his dogs. That probably means they are off their stride, or their eating habits, i.e. they aren't doing what they always do, and you don't know why. It could be a virus, just fatigue, or even one of the dogs going into heat, but if you can't pin it down you don't know how serious it is. There are always more races.
At 11:30PM CST:
Beyond Cripple
1 Aliy Zirkle (14)
2 Mitch Seavey (35)
At Cripple
3 Jim Lanier (3)
4 Trent Herbst (16)
5 Dallas Seavey (34)
6 John Baker (11)
7 Jeff King (10)
8 Lance Mackey (18)
9 DeeDee Jonrowe (17)
10 Sonny Lindner (59)
11 Sigrid Ekran (24)
12 Michael Williams Jr (51)
[Read more →]
March 8, 2012 Comments Off on Iditarod XL Day 5