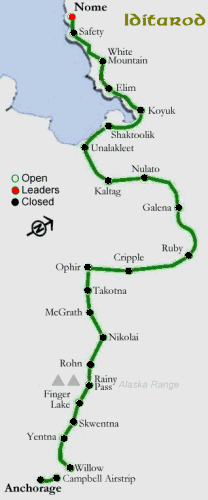 The end game is set up at White Mountain. Dallas has a one hour and eleven minute lead over Aliy. Aliy made the trip from Elim to White Mountain one hour and 12 minutes faster than Dallas.
It's 77 miles, so there is going to have to be some rest and feeding for the 9 dogs on Dallas's team and 10 on Aliy's. If there is fresh snow on the trail, the leader will be smoothing the path for the follower.
Ramey Smyth is surging, and 2 hours is not a comfortable lead at White Mountain, but he only picked up 16 minutes on Aliy in the run from Elim.
So, at the end of a thousand miles we have a 77-mile sprint race.
One other news: Brent Sass and Silver are poised to take 'rookie' honors on their first Iditarod.
Gerry Willomitzer (23) scratched at Unalakleet because his puppies are unhappy. They are unhappy about running directly into the 15mph wind out of the North that is dropping wind chills to the -30° range. You have to have a weather leader [Walter, Maple, Silver] to do that, as a sensible dog turns his/her back to the wind. This is why there are so many teams bunched up between Unalakleet and Koyuk – the trail heads due North right into the wind. The wind came up after the leaders made the turn and headed West.
Tom Thurston (5) has also scratched at Unalakleet, probably for the same reasons as Gerry.
Note: I just noticed that the people moving between Shaktoolik and Koyuk are moving in two groups – a group of nine followed an hour later by a group of five. The trail conditions must be really bad for teams to group like this. Lance Mackey is in the first group, and Rick Swenson is with the second. Bruce Linton has decided to stay at Shaktoolik. He has an insulin pump that can freeze in extremely cold weather, and when it does, he has a major problem. It happened to him on the Yukon on year.
Note: something kept Dallas at White Mountain 8 minutes longer than he needed to stay. He had better win, or lose by more than 8 minutes, otherwise he will be beating himself up over that 8 minutes for a long time.
Update [7PM CDT] Dallas has made it to Safety.
Update [8:45PM CDT]: Aliy is through Safety, but she lost 10 minutes on the run. If Dallas and his puppies can stay awake and keep moving, he should win.
Update at 10:30PM – Dallas made it to Nome and has won this year's Iditarod.
Update at 11:30PM CDT:
Finished At Nome
1 Dallas Seavey (34)
2 Aliy Zirkle (14) +1:00
Beyond Safety
3 Ramey Smyth (21)
Beyond White Mountain
4 Aaron Burmeister (44)
5 Peter Kaiser (28)
6 Ray Redington Jr (2)
7 John Baker (11)
8 Mitch Seavey (35)
9 Michael Williams Jr (51)
10 DeeDee Jonrowe (17)
11 Sigrid Ekran (24)
[Read more →]
March 13, 2012 7 Comments